Psalm 37:1-7, 34
Am I the only one who frets? You know what I mean—worry, stew, panic, anticipate, dread. Those are all variations of the idea of fretting. In Psalm 37:1 David said, Fret Not…! Easy for him to say, or was it? No, David had experienced panic, fear, worry, stress, and challenges many, many times in his life. I am sure he understood the concept of fretting. Yet, he tells us to Fret not… When a person has learned what David learned, fretting will no longer be a part of his daily life; rather, rest will be in the relationship he has with his God. Worry is always the result of the insecurity of God's power, God's goodness, and God's reality.
Let us look closer at this chapter to see the awareness that David had of his God.
Psalm 37:3 says, Trust in the LORD, and do good; so shalt thou dwell in the land, and verily thou shalt be fed. We must trust God, but we must also do good.
The little phrase do good is more than a phrase of formalistic action but rather attitude. It actually means to be agreeable, pleasant, desirable, beautiful, fair, prosperous, cheerful, comfortable, virtuous, abundant, joyful, happy, honest, valuable, favorable, and kind. That is the way of the child of God who is aware and trusting in his Father. The result of trusting is to be able to rest comfortably rather than wandering aimlessly in the wilderness.
Psalms 37:4 says, Delight thyself also in the LORD; and he shall give thee the desires of thine heart. The word delight has a very important meaning to the child of God.
It is defined as being tender or delicate. Picture a little lamb that only delights himself in the strength and the goodness of the shepherd and what he brings to him. A sheep lives a fairly carefree life due to the fact that he daily depends on the shepherd for food, water, and protection. The child of God who delights in the Lord leans on Him for everything. The child of God who delights in the Lord learns to stay very close to the Shepherd.
Psalms 37:5 says, Commit thy way unto the LORD; trust also in him; and he shall bring it to pass. The word commit means to roll upon.
David's counsel is to roll the responsibility and burden of our entire lives on our Lord and let Him take care of everything. Psalm 55:22 says, Cast thy burden upon the LORD, and he shall sustain thee: he shall never suffer the righteous to be moved. The word sustain means nourish and furnish. He shall nourish us and prepare our way if we will but roll all of our life upon Him and give Him total reign and control. We have no need to worry when our ways are committed to Him. David understood this, for his life was a series of simply rolling everything on the Lord and letting Him work out the details.
Psalms 37:7 says, Rest in the LORD, and wait patiently for him:… The word rest means to be silent.
It is allowing God to be at work in our adversity as we quietly are aware of His presence. It is the awareness that He is working His plan in our lives. It is constantly knowing that God is at work in the midst of every circumstance of our life if we will just be quiet and let Him do His work. Is persecution coming your way? Be silent; God is working. Are you going through times of pain? Be silent; God is working. Are you being tested? Be silent; God is working. Are you going through times of loneliness? Be silent; God is working. Are you being tempted? Be silent; God is working. James 1:3-4 tells us, Knowing this, that the trying of your faith worketh patience. But let patience [silence] have her perfect work, that ye may be perfect and entire, wanting nothing. Too often, we are looking for the answers, and if we would simply be quiet, God would give them to us. Resting patiently in the Lord is the stillness of our souls as we allow Him to do His work in our lives.
Psalms 37:34 says, Wait on the LORD, and keep his way, and he shall exalt thee to inherit the land: when the wicked are cut off, thou shalt see it. This word wait is a word that implies a line that is directly between the heart of man and the heart of God.
It is the line representing the intense desire of man's heart to be in tune with God's heart. It is man placing all expectations and hopes in God. It is when we hope for nothing, care for nothing, wish for nothing, and aim at nothing but to know and to be in tune with the very heart of our Father. It is when all desire is in Him, all hope is in Him and all sustenance is in Him. It is putting no confidence in ourselves but having total confidence in Him. That kind of attitude does not produce fear; it produces a lack of fear. It produces courage. It does not produce helplessness but rather hope and power. It is when we become totally desirous of His heart and are constantly aware of being in tune with Him that we will enjoy Him to the maximum. (Isaiah 64:4) Jesus was an ultimate example of that relationship as He was sweetly aware of His Father.
As we are witnesses to and the victim of the events that are unfolding in our world, may we be reminded that we do not have to fret or worry. We must not look to the media, politicians, or man for peace and comfort. Let us cling to the Source of peace and the Hope of man, Jesus Christ.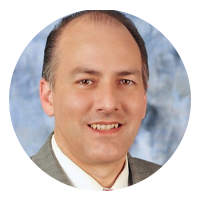 Pastor Neal, through his preaching and his counseling, displays the compassionate heart of a pastor, follows the true leading of the Holy Spirit, and expresses a fervent desire to see lost souls come to know Christ. It is his ultimate desire to see the greater Jacksonville area reached for the cause of Christ and for revival to come to Northeast Florida.