Nothing great has ever been accomplished for God without opposition. Whenever a church or an individual decides to launch forth to do more for God, the enemy will attack. Every step the children of Israel took was met with resistance. In Deuteronomy 1:29-31, we see how God defends His own. One of the first lessons we must learn is that no one attacks us when we do nothing for God. That proves that we are not the enemy. God is their enemy. They hate our God so much that they will oppose us when we attempt to serve Him in a greater way. Are we willing to do nothing to avoid that opposition? Our love for God compels us to obey Him and to serve Him. In so doing, we will be attacked. In this chapter, we will look at principles that Moses shared with the Israelites regarding the attacks that would come against them.
THE LORD YOUR GOD WHICH GOETH BEFORE YOU,…
God does not follow us to the destination to which He has led us. God precedes us there. He has already gone before us. Whatever God has led us to do, He is there and has prepared the path for us. It is wonderful to know that God goes before us! If we are facing a challenge in our lives because of obeying God, we need to remember that He has already gone before us and has prepared the way. In everything we are called to do, God prepares the path before us.
…HE SHALL FIGHT FOR YOU,…
The Bible does not say that He will fight WITH you. It says He will fight FOR you. When we are doing a work for God, the enemy will attack. It is not our responsibility to fight the enemy. Our responsibility is to do the task which God has called us to do. God will fight for us as we do His work. Many battles have been lost because, rather than continuing in the task we are called to do, we get sidetracked by fighting the enemy. God is our Defense. He is our Protector. He will protect us as we serve Him.
…ACCORDING TO ALL THAT HE DID FOR YOU IN EGYPT BEFORE YOUR EYES;
This principle is life-changing. Do not forget Egypt. All that God did for the Israelites in Egypt was proof of what He would do for them as they entered the Promised Land. God will win the battle to get us out of Egypt. He will take care of us as we move forward in obedience to Him. If God can conquer our lost condition and pay the price for us to be saved, can He not also lead us to victory after we have been saved? The work of salvation is proof that God can be trusted.
AND IN THE WILDERNESS, WHERE THOU HAST SEEN HOW THAT THE LORD THY GOD BARE THEE, AS A MAN DOTH BEAR HIS SON,…
The children of Israel had wandered in the wilderness for forty years because of their lack of faith. It is beautiful to compare this to how God stays with us even in our lapses of faith. There are times in all of our lives when we are not everything we should be. However, God's faithfulness is not dependent upon our faithfulness. God is faithful even when we lack faith. Though the people lost the opportunity to enter the Promised Land and wandered for forty years, God always provided for them. God compares this to a father who bears his son. God does not bear us as a servant but as a son. We are His children, and He loves us. He will sustain us. God is more faithful as a Father to His own than an earthly father is to his children.
…IN ALL THE WAY THAT YE WENT, UNTIL YE CAME INTO THIS PLACE.
No matter where we are, God will never forsake us. We are promised that He will never leave us nor forsake us. No matter where we are in our lives, God is with us. As we move forward for Him, He will be with us. He will be with us on the mountaintops and in the valleys. He will be with us when things are going perfectly, and He will be with us when things seem to be going terribly. Our God will be with us in every circumstance we encounter. He prepares the destination, and He accompanies us as we journey there.
As we move forward in His service, let each one of us put our confidence in God. Let us trust Him to protect us and to defend us. Let us depend upon Him for our needs. We can trust Him. Because of that, let us move forward to do more for Him in the days to come than we have ever done before.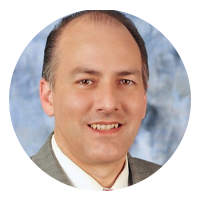 Pastor Neal, through his preaching and his counseling, displays the compassionate heart of a pastor, follows the true leading of the Holy Spirit, and expresses a fervent desire to see lost souls come to know Christ. It is his ultimate desire to see the greater Jacksonville area reached for the cause of Christ and for revival to come to Northeast Florida.