For even hereunto were ye called: because Christ also suffered for us, leaving us an example, that ye should follow his steps: Who did no sin, neither was guile found in his mouth: Who, when he was reviled, reviled not again; when he suffered, he threatened not; but committed himself to him that judgeth righteously: Who his own self bare our sins in his own body on the tree, that we, being dead to sins, should live unto righteousness: by whose stripes ye were healed. For ye were as sheep going astray; but are now returned unto the Shepherd and Bishop of your souls. – I Peter 2:21-25
Why do Christians so easily fail?
Why do so many fall by the wayside?
Why do our priorities seem so worldly?
Why are we so complacent?
Why do so many Christians live their Christianity part-time?
Why is there such a dullness and emptiness in many of God's people?
Why do we seem to lack energy in our service to Him?
Why is there an inconsistency in our walk with Christ?
Why does the Bible seem to mean so little to us?
Why do we faint so easily in prayer?
Why are we so ashamed in sharing Christ with others?
The answer to all these questions is that we have not truly become committed to Christ. As we see in our text, Christ made a commitment to His Father in Heaven. The key to Christianity is Christ, and the key to Christ is commitment. Too many Christians talk as if He is real and live as if He is not. Too many Christians have learned to organize their lives so as to admit to Christianity and even claim it without being shamed by its implications. We boast of Him but carefully sidestep our dependance on Him. We identify ourselves with Him while carefully maintaining a second identity. We rest in Him for eternity while carefully keeping control of our futures. We get emotional about the Lord but carefully avoid letting go of our will. It is sad that many Christians are truly not committed to Christ. Jesus emphasized commitment to His own disciples. He set the example by being committed Himself. It is important to learn the importance of being committed.
If we truly believe in Christ, we will be committed to Him.
What kind of faith does one have that would believe in something so miraculous as an eternal Saviour and then not commit themselves to Him? Maybe we ought to test our faith to see if it can stand up. Perhaps, the test is our commitment. The Bible says, As ye have therefore received Christ Jesus the Lord, so walk ye in Him. It also says, If we live in the Spirit let us also walk in the Spirit. Our commitment to Christ tells us also about our faith in Christ, much more so than our words.
There ought to be times of committing and recommitting ourselves to Christ.
We do not have to fully understand Him to commit to Him, but we must commit to Him to fully understand Him. Has there ever been a time that we have made a commitment to Him? Could it be that the reason why Christians often do not know more about the Lord is because they have never committed themselves to Him? When making that decision, it is a final decision. If it was not final, then it was not true commitment. Commitments are not temporary. Commitments are not expedient. Commitments are definitive decisions.
After we commit ourselves to Christ, we still must progress and continue in our commitment.
A commitment is to Him, and that is final. Yet, we are still not aware of all that it will include. Paul asked, What wilt thou have me to do? He had made his commitment, but he was not able to fully realize all that it would mean. A commitment does not mean a total success. It means continuous effort. Commitment does not mean absence of failure, but it means the absence of quitting. Commitment does not mean that we do all things right, but it means that we hunger and thirst after righteousness. A commitment is an effort, not the accomplishment.
True commitment knows no limits or exceptions.
When one is committed, that commitment is settled, regardless of the circumstances. Daniel made a commitment, and it put him in the lion's den. The three Hebrew children made a commitment that put them in the fiery furnace. Paul made a commitment that led to multiplied punishment and tribulation. Abraham made a commitment which led to placing his own son on an altar to sacrifice him to God. There is no way to anticipate where commitment will lead, but commitment does not have an "if" behind it; it is a "no-matter-what." To place an exception on commitment is to be committed to whatever that exception is. In fact, our commitment to Christ ought to increase in difficulties. Anything that hinders that commitment becomes the object of the commitment.
True commitment trusts the Lord with our whole lives.
That is exactly what Abraham did. He committed his whole life to the Lord regardless of where it led him or what it might ask of him. Commitment is accepting Him as our only security. It is saying with our lives, "I will take You at Your word. I will trust Your leading, I will hold only to You." That powerful element of faith is missing in so many Christians, but it must be present in true commitment. Commitment is saying, "Dear God, take the keys to my life, and I promise not to make any spares."
Commitment to Him will continue in times when man has let us down.
Oh, how important this is to understand! Man changes, but the Lord never does. Sometimes, people give up on God because they have lost their confidence in man. The truth is that we should not have any confidence in man. Our confidence ought to be in the Lord, so that when man fails us, our commitment does not waiver.
Commitment must be willing to change anything to adjust to Christ.
Change is something that none of us like, yet we must be willing to change anything. That is a part of our commitment to Christ. In other words, as we commit ourselves to Him and get to know Him better, we see those things in our lives that are not as they ought to be. Our commitment forces us to make the changes that we ought to make. A Christian who is committed to change will be a good Christian. A Christian who is committed to Christ will not be afraid to change.
Commitment to Him prevents frustration.
In Luke 10, Mary and Martha were with Jesus. Martha was troubled, and Jesus said, Mary hath chosen that better part. She had chosen commitment to that person of Christ. The key to commitment is not to a church. It is not to a denomination. It is not to a man, to an institution, to a group, or even to a set of ideological beliefs. It is committing to a never-failing, never-changing Saviour: the Lord Jesus Christ. If we commit to Christ, our commitments to all other things will take care of themselves.
Commitment means letting go. Commitment means surrendering all. We all need to make a commitment to the Lord Jesus Christ. If we commit our people to churches we will lose them, but if we commit them to Christ, they will become great church members. How important it is that we learn to do as Christ did and make a commitment to our Lord!
by Pastor Greg Neal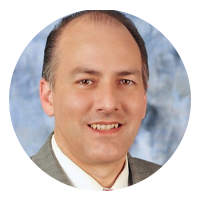 Pastor Neal, through his preaching and his counseling, displays the compassionate heart of a pastor, follows the true leading of the Holy Spirit, and expresses a fervent desire to see lost souls come to know Christ. It is his ultimate desire to see the greater Jacksonville area reached for the cause of Christ and for revival to come to Northeast Florida.